CO-OP PROGRAM BETN PADMASHREE AND ESEWA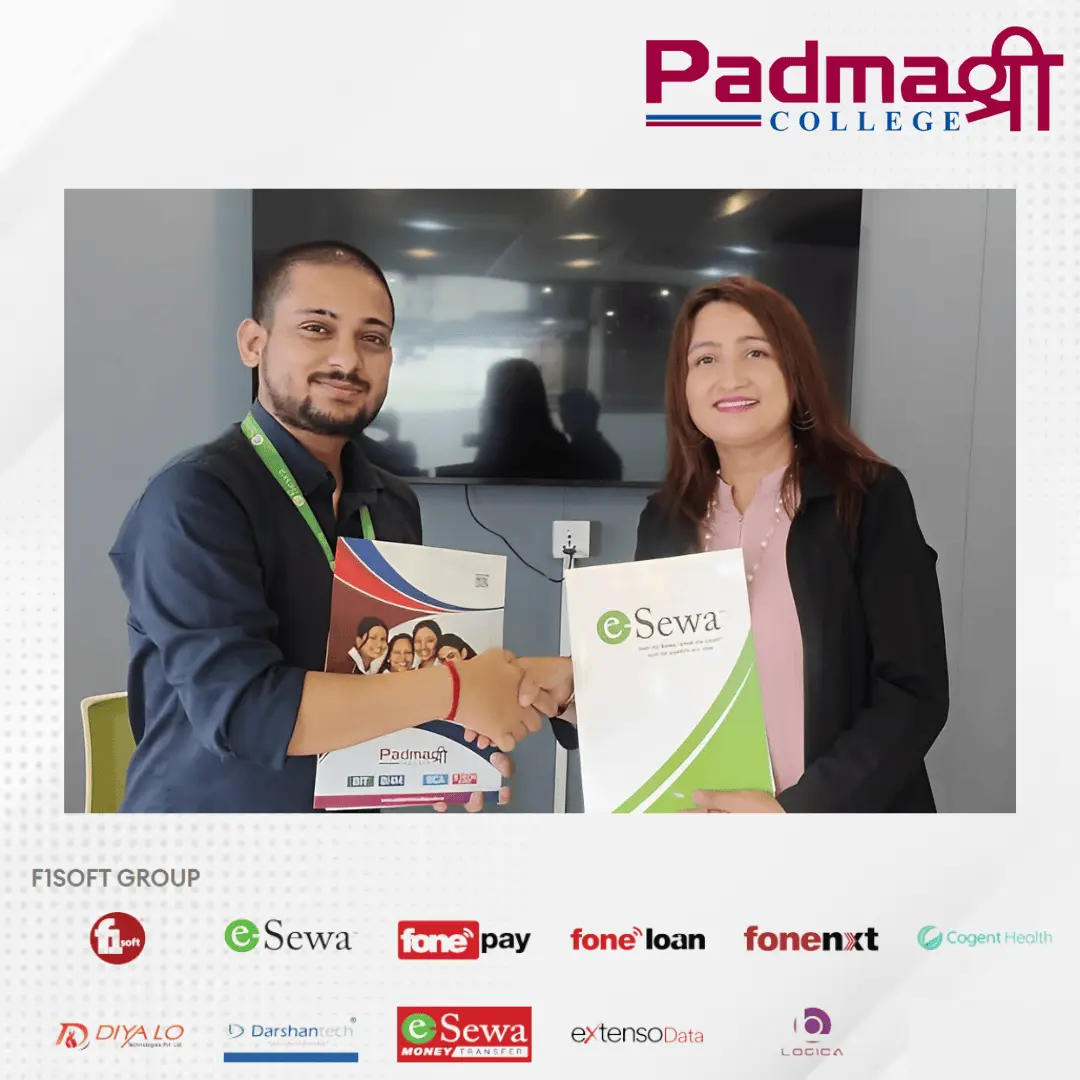 F1Soft International Pvt. Ltd. in collaboration with its esteemed subsidiary companies such as
eSewa Pvt. Ltd. Fonepay Payment Services Ltd. Diyalo Technologies Pvt. Ltd BusSewa Pvt. Ltd. eSewa Travels and Tours Pvt. Ltd. eSewa Money Transfer Pvt. Ltd. Logicabeans Pvt. Ltd. eXtensoData Pvt. Ltd. Darshan Technologies Pvt. Ltd. Cogent Health Pvt. Ltd. Foneloan Pvt. Ltd. and Fonenxt Pvt. Ltd. has officially inked a Memorandum of Understanding (MOU) with Padmashree College, establishing a robust framework for an innovative placement partnership and training platform tailored for Padmashree College students.
Under the terms of this MOU, F1Soft and its subsidiary companies are dedicated to providing comprehensive on-the-job training and skill enhancement opportunities for Padmashree College students. Additionally, they will offer coveted internship placements. Furthermore, F1Soft and its subsidiary companies will actively engage in market research endeavours, meticulously assessing both hard and soft skills in demand within the industry. Subsequently, they will design and implement skill development programs exclusively crafted for students. In a collaborative effort, Padmashree College will generously allocate space for seminars and workshops. Moreover, the college will extend invitations to industry experts from F1Soft and its subsidiaries to serve as visiting faculty, imparting valuable knowledge and insights.
This MOU marks a pivotal milestone in the burgeoning partnership between F1Soft and Padmashree College. The initiative is geared towards ensuring that Padmashree College students are well equipped with the requisite skills and practical experience necessary to thrive in today's competitive job market.
Key Benefits of this MOU for Both Parties:
For F1Soft and its subsidiary companies: This agreement unlocks a gateway to a reservoir of exceptionally talented and highly motivated students. It directly addresses their staffing needs while also nurturing the next generation of IT professionals.
F1Soft as an Internship Partner for Padmashree College: F1Soft pledges to provide Keynote Speakers and Guest Lectures on a regular basis, enhancing the academic experience for students.
For Padmashree College: The MOU offers students unparalleled access to world-class training and development opportunities. This strategic partnership empowers students with the skills imperative for career success.
Certifications by F1Soft: In an exciting development, F1Soft will meticulously assess the performance of students and award them with certifications, adding a valuable credential to their resumes.
Guidance and Information Sessions: Padmashree College warmly welcomes F1Soft to host informative and guidance sessions, enriching the students' learning journey.
For students aspiring to excel in the realm of IT, Padmashree College's collaboration with F1SoftInternational Pvt. Ltd. and its esteemed subsidiaries stands as a testament to their commitment to nurturing talent and fostering innovation.